Google Ads Management Agency in Houston, TX
Unleash the Power

of Houston's Best

Google Ads Management Agency
Drive Exceptional Results Now
Welcome to Results Digital, the top Google Ads Management Agency in Houston. Our goal is to help businesses like yours navigate the intricacies of pay-per-click (PPC) advertising to unlock untapped potential.
With a focus on driving quality traffic, garnering leads, and propelling sales, our experienced team of Google Ads experts is equipped to put your business on the map. Dive into our treasure trove of successful case studies to witness the transformation we've facilitated for countless businesses.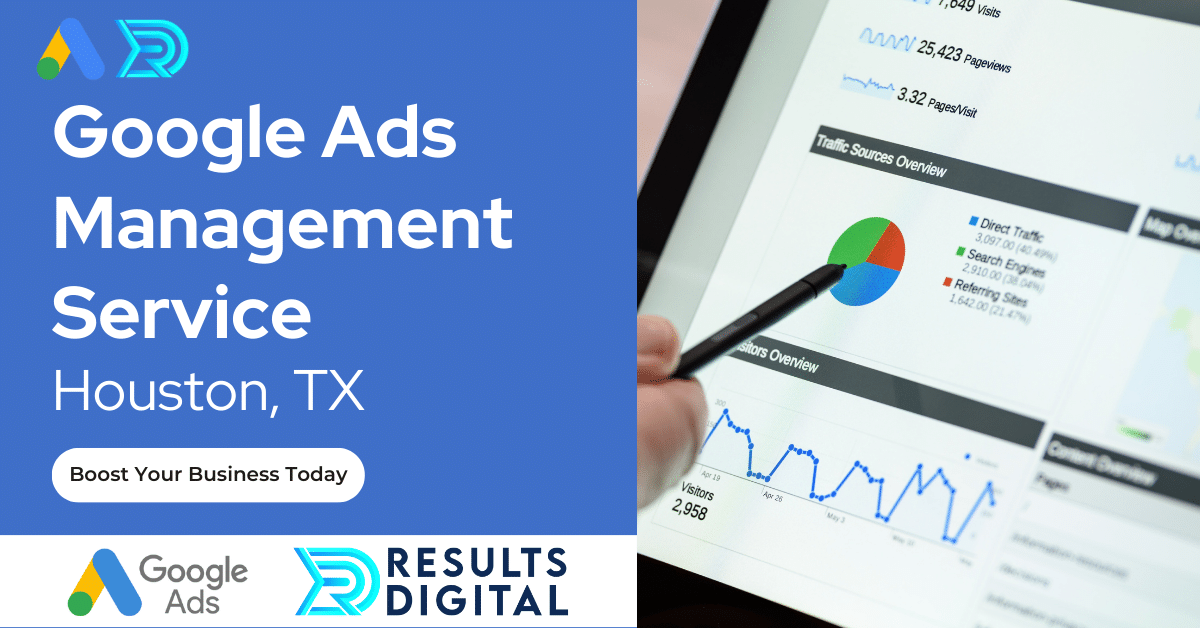 Google Ads Services in Houston Area
Facing Google Ads Challenges?
Are your Google Ads campaigns barely scraping by, failing to make a dent in your ROI? Does the quest for actionable leads and consistent sales from your campaigns seem endless? You're not alone. Many businesses grapple with maximizing the potential of their Google ads local service.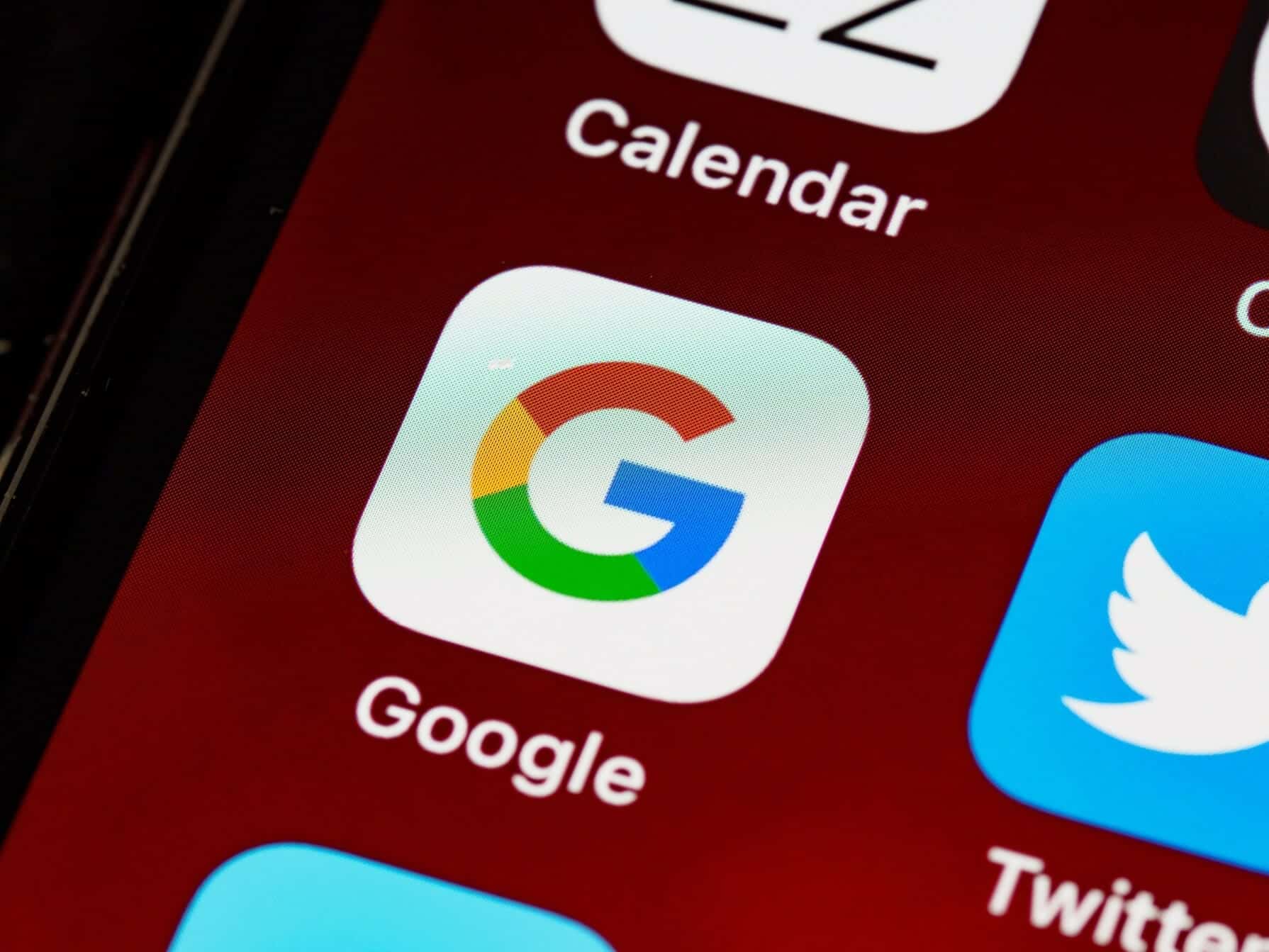 Pay-Per-Click Advertising

Firm in Houston, TX

The Solution to Your Ad Woes
As the best Google ads agency in Houston, we're adept at fine-tuning campaigns to resonate with your target right audience. Whether you run a local store or an e-commerce platform, our tailored strategies, rooted in deep Google ads audience manager insights, promise a surge in performance.
It's time to move past underwhelming campaigns and embrace an agency that redefines the essence of success in Google ads campaign management.
Ready to get more leads?
Our Proven Google Ads Strategy: The Roadmap to Success
1. Professional Google Ads Strategy
Our PPC agency doesn't just create ads; we craft experiences. By delving into meticulous keyword research in search engines, we ensure your ad spend campaigns reach your most valuable audience segments and successful campaign performance.
2. End-to-End Ad Campaign Management
From the initial ad campaign and PPC account setup to the intricate details of ad creation, our PPC experts handle it all. Let us elevate your brand's presence with paid advertising campaigns that truly resonate to boost sales.
3. Optimization Tips & Insights
With Results Digital, it's not just about deploying campaigns. We equip you with sales funnel tips and Google analytics strategies, ensuring sustained success in your advertising efforts.
4. Visual Engagement
Experience the power of compelling visuals. Our high-quality images and video integrations aren't just garnishes—they're central to our narrative of captivating your audience.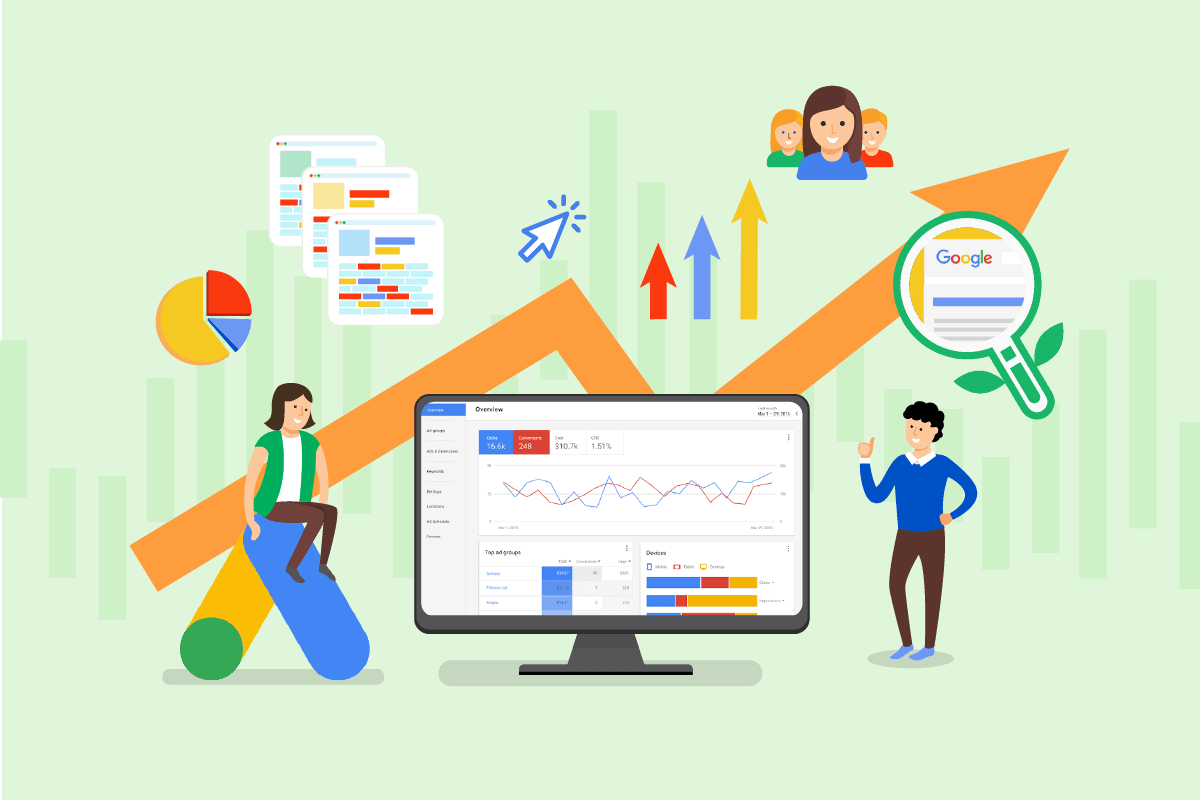 Hear From

Our Happy Clients
Don't just take our word for it. Check out our testimonials and reviews from happy customers here. Join a growing list of satisfied clients who have transformed their online advertising journey with Results Digital.
For more information, check out our case study here and learn the REAL results we have given our clients.
Consult the Best Google Ads Management Agency

in Houston, TX
Ready to elevate your Google Ads game and increase sales? Houston businesses, it's time to thrive in the digital realm. Contact us today for a consultation, and let's craft a roadmap to success with our PPC management services. Together, we'll ensure that your business doesn't just navigate the digital space—it conquers it!
FAQs
Do Google Ads work for small businesses in Houston?
Absolutely! Google Ads are particularly effective for small businesses in Houston. By targeting local keywords and demographics, small businesses can gain a competitive edge, drive local foot traffic, and increase online conversions. With the right strategy, these ads can offer an impressive return on investment for your local businesses, even with limited budgets.
What does a Houston Google Ads agency do?
A Houston Google Ads agency specializes in understanding the unique market dynamics of Houston. They craft tailored online advertising campaigns, handle keyword research, and optimize ads for the local audience to reach your marketing goals.
Why choose pay-per-click (PPC) advertising for Houston businesses?
PPC advertising is an invaluable tool for Houston businesses. Unlike organic SEO, which can take months, PPC offers immediate results, putting your business in front of potential customers right away.
How to contact the best Google Ads agency near Houston?
To contact the top Google Ads agency in the Houston area, reach out to Results Digital. With a proven track record of delivering stellar results for Houston businesses, we're here to help. Contact us at (281) 975-2086 for comprehensive Google Ads services tailored to your needs.
Why Hire
Results Digital?
We invest

 

heavily

 

in our continual education & training to be our best for your company.

Google Ads Search Certified
Google Ads YouTube Certified
Google Ads Display Certified
DigitalMarketer Certified - Search Online Marketing Specialist
DigitalMarketer Certified - Paid Traffic Specialist
DigitalMarketer Certified - Ecommerce Marketing Specialist
Define Digital Academy - Google Ads Bootcamp
Define Digital Academy - Google Ads Optimized
Define Digital Academy - Shoptimized
Define Digital Academy - Sell MORE With Google
The Affiliate Lab SEO Course

Customized digital marketing plans based on your budget.
No contracts. It's up to us to win your business every month!
Real reporting on metrics that actually grow your business.
Owned by a United States Marine Corps veteran. Second best or "good enough" isn't in our vocabulary.