Google Ads Management in Houston, TX
Unleash the Power

of Houston's Best

Google Ads Management Agency
Drive Exceptional Results Now
Welcome to Results Digital, the top Google Ads Management in Houston. Our goal is to help businesses like yours navigate the intricacies of pay-per-click (PPC) advertising to unlock untapped potential.
Get Customized Houston PPC Management Service
With a focus on driving quality traffic, garnering high quality leads, and propelling sales, our experienced team of Google Ads experts is equipped to put your business on the map.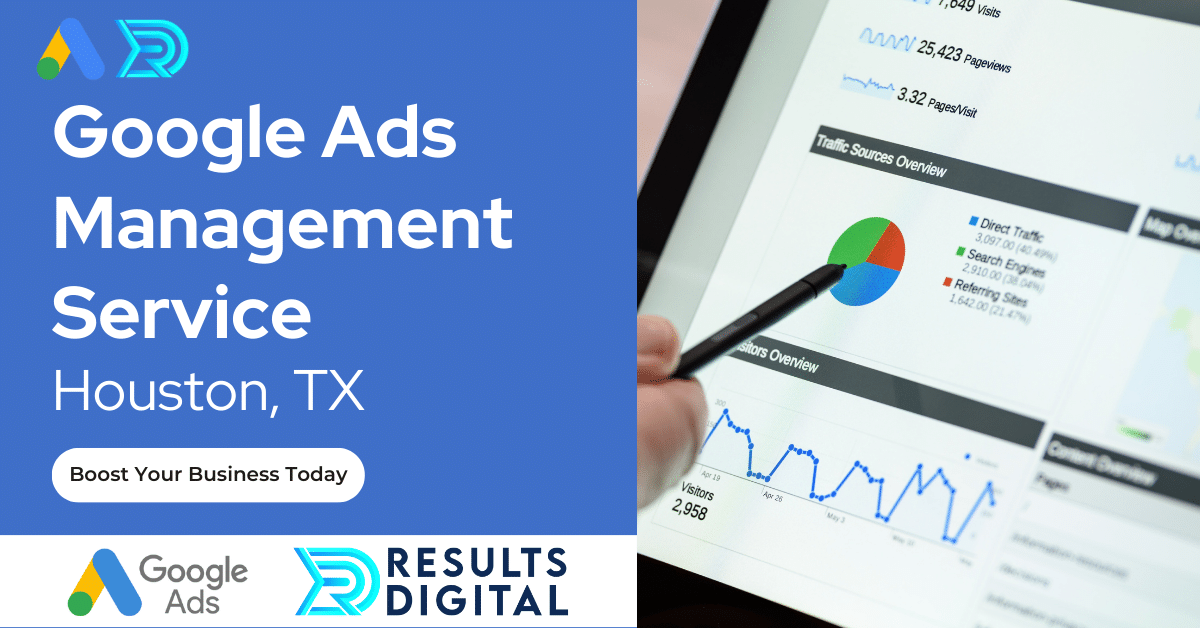 Google Ads Services in Houston Area
Facing Google Ads Challenges?
Are your Google Ads campaigns barely scraping by, failing to make a dent in your ROI? Does the quest for actionable leads and consistent sales from your campaigns seem endless? You're not alone. Many businesses grapple with maximizing the potential of their Google ads local service. 
Dive into our treasure trove of successful case studies to witness the transformation we've facilitated for countless businesses. Check out our case studies here!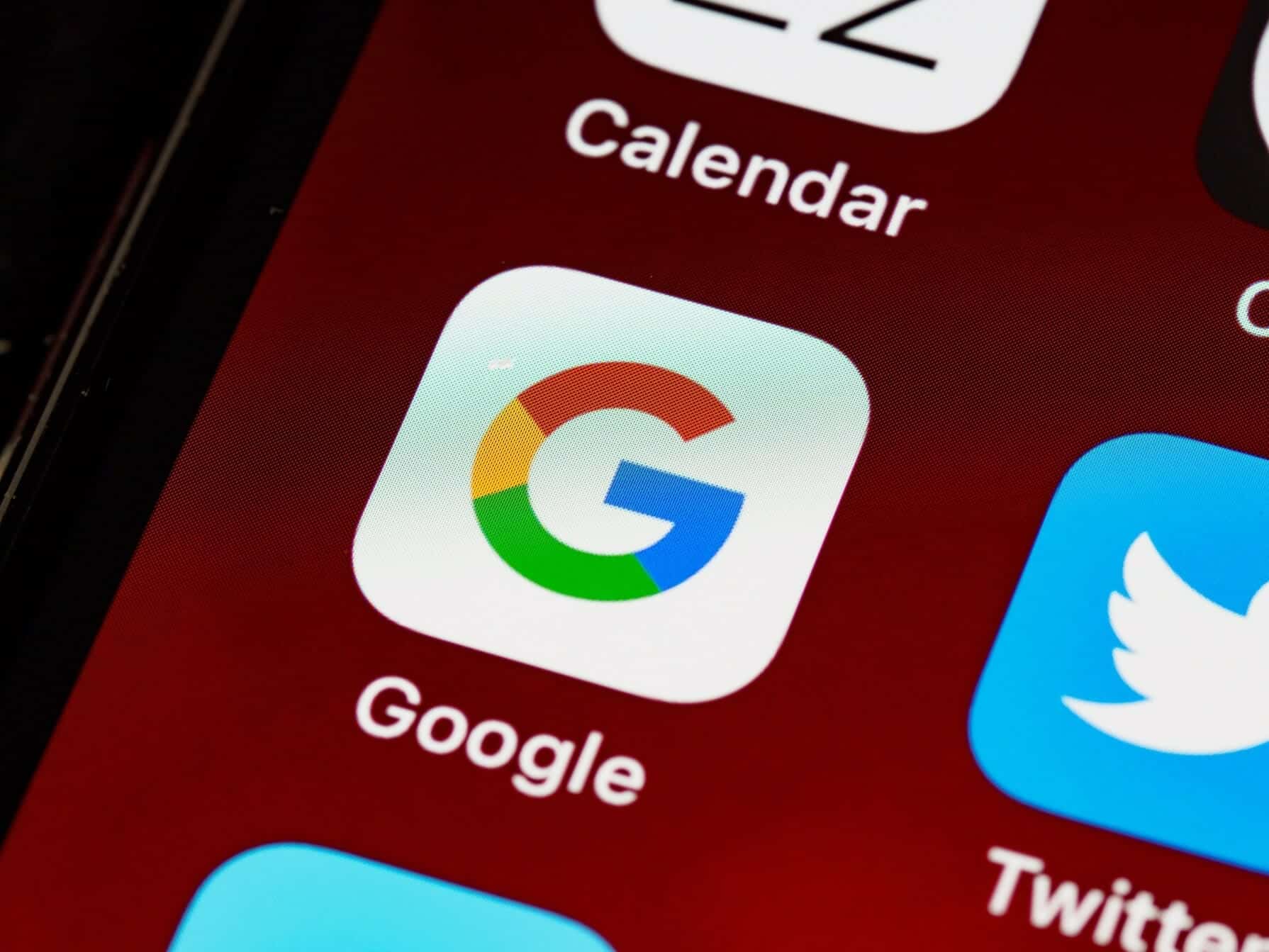 Pay-Per-Click Advertising

Firm in Houston, TX

The Solution to Your Ad Woes
As the best Google ads agency in Houston, we're adept at fine-tuning campaigns to resonate with your target right audience. Whether you run a local store or an e-commerce platform, our PPC management team offers tailored strategies, rooted in deep Google Adwords audience manager insights, promise a surge in performance.
Google Ads Management in Houston
It's time to move past underwhelming campaigns and embrace an agency that redefines the essence of success in Google ads campaign management.
Ready to get more leads and boost your conversion rate?
Our Proven Google Ads Strategy: The Roadmap to Success
1. Professional Google Ads Strategy
Our Houston PPC agency doesn't just create ads; we craft experiences. By delving into meticulous keyword research in search engines, we ensure your ad spend campaigns reach your most valuable audience segments and successful campaign performance.
2. End-to-End Ad Campaign Management
From the initial ad campaign and Houston PPC ad account setup to the intricate details of ad creation, our Houston PPC experts handle it all. Let us elevate your brand's presence with paid advertising campaigns that truly resonate to boost sales and organic search results.
3. Optimization Tips & Insights
With Results Digital, it's not just about deploying campaigns. We equip you with sales funnel tips and Google analytics strategies, ensuring sustained success in your advertising efforts. Ready to gain new customers for your business?
4. Visual Engagement
Experience the power of compelling visuals. Our high-quality images and video integrations aren't just garnishes—they're central to our narrative of captivating your audience.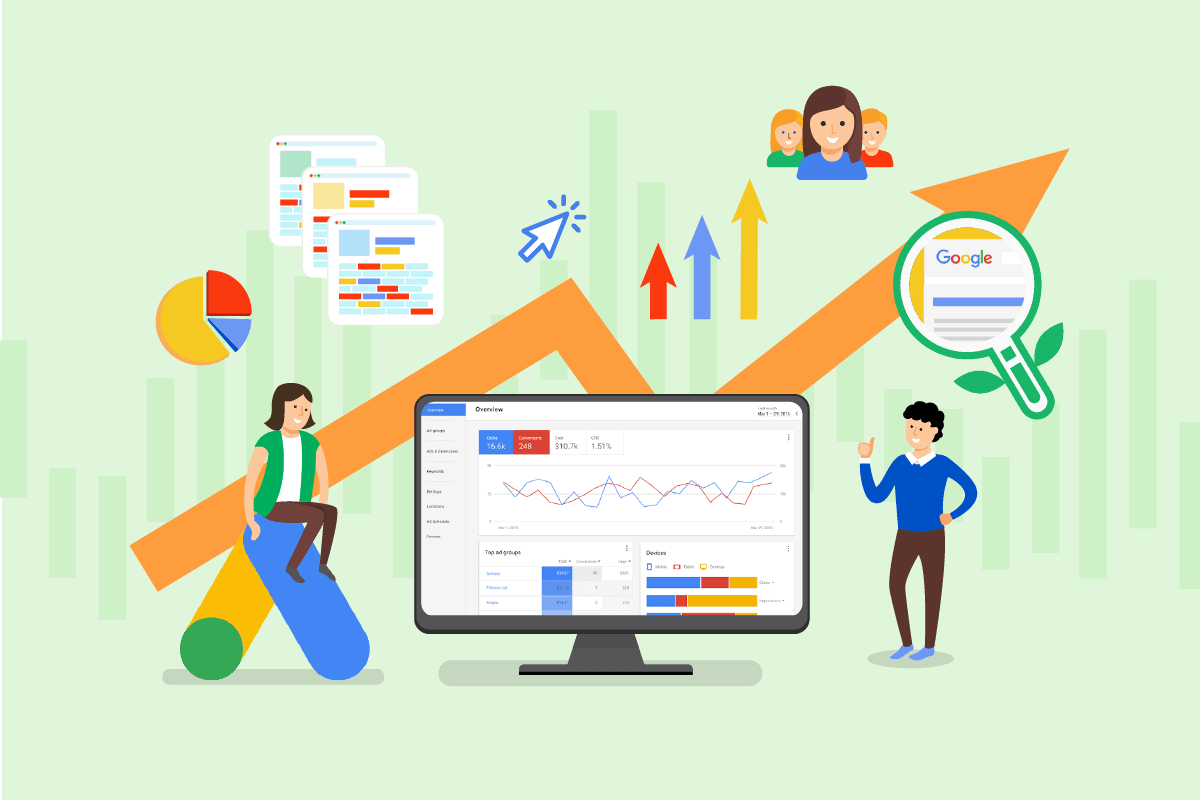 Hear From

Our Happy Clients
Don't just take our word for it. Check out our testimonials and reviews from happy customers here. Join a growing list of satisfied clients who have transformed their online advertising and digital marketing journey with Results Digital.
For more information, check out our case study here and learn the REAL results we have given our clients.
Consult the Best Google Ads Management Agency

in Houston, TX
Ready to elevate your Google Ads game and increase sales? Houston businesses, it's time to thrive in the digital marketing realm. Contact us today for a consultation, and let's craft a roadmap to success with our Houston PPC management services. Together, we'll ensure that your business doesn't just navigate the digital space—it conquers it!
FAQs
How much does web design cost at Results Digital?
At Results Digital, we believe in transparent and straightforward pricing. Our entry-level package is free of any setup fees. Just pay the initial monthly fee of $195 to get started.
For Deluxe and Premium packages, a setup fee is required to initiate SEO directory citations. Simply add the setup fee to the monthly rate, and your project is set in motion.
How do I begin my web design journey with Results Digital?
Embarking on your digital transformation with Results Digital is seamless. Just fill out our contact form for a consultation, and we'll guide you through the next steps to elevate your online presence.
How long will it take for Results Digital web designers to create my website?
With all necessary materials in hand, like content and branding elements, we typically deliver your website within 4-6 weeks.
How will Results Digital capture my vision in the website design?
You can share with us a few websites you admire to help us grasp your style preferences. Feel free to specify fonts, colors, and any other design elements. We value your input and are dedicated to revising our work until your website is a perfect reflection of your vision.
Is SEO included in Results Digital's web design?
Absolutely. Each website we create is built with SEO in mind. We incorporate essential SEO practices such as keyword-rich content, effective URL structures, and comprehensive on-page SEO strategies to ensure your site ranks well on search engines.
Is it possible to start designing my website at Results Digital before finalizing my content?
Yes, we can start developing your website's design concept while you finalize your content. We provide a content outline to help you effectively showcase your services or products.
Are websites created by Results Digital powered by WordPress?
Yes. We harness the power of WordPress, the leading content management system, to offer limitless functionality and design flexibility. This ensures easy updates and a website that aligns with your vision.
What are my options after completing my contract with Results Digital?
Once your contract ends, you will have complete ownership of the website. You can choose to manage it yourself or opt for our ongoing website maintenance services for continued support and updates.
Does Results Digital utilize custom or stock photography in web design?
We recommend using custom photography to authentically represent your brand. However, if needed, we can source high-quality stock images to ensure your website looks professional and appealing.
What is the contract cancellation policy at Results Digital?
Should you need to cancel your contract, a $500 cancellation fee applies. We can either decommission the website or if you prefer to transfer it, provide you with all necessary files upon full payment of the remaining balance.
What are my post-contract options at Results Digital?
Upon completing your contract, you can renew for a fresh design, switch to a monthly maintenance plan, or take over the hosting and management of your site.
Can I host my website elsewhere after working with Results Digital?
While we offer premium hosting services, you are free to host your website elsewhere upon completing your contract or purchasing the design.
Does Results Digital offer professional content writing services?
Yes. At Results Digital, we offer specialized content writing services, priced at $150 per page, designed to engage and connect with your target audience. Alternatively, you're welcome to create your own content.
Is continuous technical web support part of Results Digital's web design services?
Ongoing technical web support is included in our monthly plan, making sure that your website runs smoothly and efficiently at all times.
Why Hire
Results Digital?
We invest

 

heavily

 

in our continual education & training to be our best for your company.

DigitalMarketer Certified - Search Online Marketing Specialist
DigitalMarketer Certified - Paid Traffic Specialist
DigitalMarketer Certified - Ecommerce Marketing Specialist
Define Digital Academy - Google Ads Bootcamp
Define Digital Academy - Google Ads Optimized
Define Digital Academy - Shoptimized
Define Digital Academy - Sell MORE With Google
The Affiliate Lab SEO Course

Customized digital marketing plans based on your budget.
No contracts. It's up to us to win your business every month!
Real reporting on metrics that actually grow your business.
Owned by a United States Marine Corps veteran. Second best or "good enough" isn't in our vocabulary.